Learn Spanish in 3 Days in Puerto Aventuras!
If you have always wanted to learn Spanish but think you may be too old to master a new language? Does all the new vocabulary and grammar feel overwhelming?  This new course may be just the thing for you! True beginners will find that this class gives them a huge jump-start on learning the language. If you have some Spanish language skills, this class can help you to break through that plateau that most people experience when trying to learn a new language.
Learn Spanish in 3 Days in a fun and easy way with frequency modulation rapid learning techniques. This course is based on the teachings of Dr. Georgi Lozanov and is not about memorization. You will quickly discover you already know more than you think you do and acquire a new level of comfort actually speaking the language in day to day situations!
Don't miss the next Puerto Aventuras Class. The course is regularly priced at $699/person $899/couple but the organizers/instructors are extending a special invitation to locals at the reduced rate of just $299/person or $499/couple!
Special Discounted Rate for Locals: $299/person or $499/couple
Date:  March 21, 22 and 23, 2013
Time: 9AM – 5PM each day
Place: Puerto Aventuras
What to Bring: A pen, a sweater in case the room is cool for you and an open mind. (Please no computer or cellular phones on during classes)
What is included: The complete class lesson book to take home, the lesson recordings and relaxation exercises (bring a memory stick if possible). Coffee, tea and water at break times. Lunch on your own will be 2 hours each day. There are many restaurants close by to choose from.
A few "Spanish in 3 Days" Testimonials:
"I took this incredible class a few weeks ago, and I would like to tell anyone that is interested, that it is an amazing three days of learning with lots of laughs included. You arrive everyday wanting to learn more and are so excited to do so."
"The stress free atmosphere and tons of interaction and participation were very conducive to learning. The relaxation techniques alone are worth the price. The fact that I can now feel more comfortable conversing in Spanish is priceless. To Shawn and Suzanne, thank you so much. You are wonderful teachers. I learned so much. Muchas, muchas gracias."
"Really enjoyed the class and learned a lot……… I like the relaxed speed and learning atmosphere. The presentation made learning easy."
About Your Instructors – Suzanne and Shawn Bandick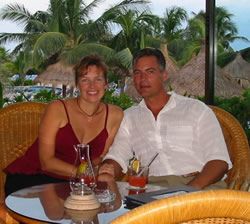 In 2001 on a quest for adventure and a change of culture we packed up our two kids, and moved from Vernon, B.C. to Mexico. Our children, now young adults and in search of their own adventure and careers have moved back to Kelowna but we keep a home base in Puerto Aventuras on the Caribbean coast of Mexico just south of Cancun.
In Canada, we built and trained sales and marketing teams for companies. We traveled extensively for business and with our children for pleasure. Then came the question, why do we work so hard just so we can go travel? Why don't we just go and live abroad? Two years later we were liquidated down to what would fit in our Toyota 4 runner and headed south. Once in Mexico, Shawn opened a real estate office which was another fun adventure making tons of new friends and helping them live their dreams. Suzanne became a writer and a life coach.
For full details visit http://www.spanishin3days.weebly.com or email Suzanne – sswinbiz@hotmail.com.